For flights flying to the U.S. and U.K. from some Middle East and North Africa airports, there are new carry-on restrictions on large electronic devices passengers can bring into the cabin. The U.S. ban went into effect at 3 a.m. ET on March 21st, but airlines have 96 hours to comply with the ban. The devices can be placed in checked baggage. Cell phones/smart phones are not banned from the cabin.
The U.S. ban affects nine airlines and 10 airports, while the U.K. ban affects 14 airlines. No U.S. airlines are affected by the ban. Also no flight that originates from the U.S. or flights within the U.S. are subject to the ban.
The ban is the result of intelligence that terrorist groups may be planning to use passengers' electronic devices to smuggle explosives onto aircraft. The ban will remain in effect until October 14th, but could be extended for another year if the threat still remains.
Information on the banned devices from the DHS website:
Large Electronic Devices
Electronic devices larger than a cell phone/smart phone will not be allowed to be carried onboard the aircraft in carry-on luggage or other accessible property. Electronic devices that exceed this size limit must be secured in checked luggage. Necessary medical devices will be allowed to remain in a passenger's possession after they are screened.
The approximate size of a commonly available smartphone is considered to be a guideline for passengers. Examples of large electronic devices that will not be allowed in the cabin on affected flights include, but are not limited to:
Laptops
Tablets
E-Readers
Cameras
Portable DVD players
Electronic game units larger than a smartphone
Travel printers/scanners
Table of carriers affected by U.K. and U.S. bans: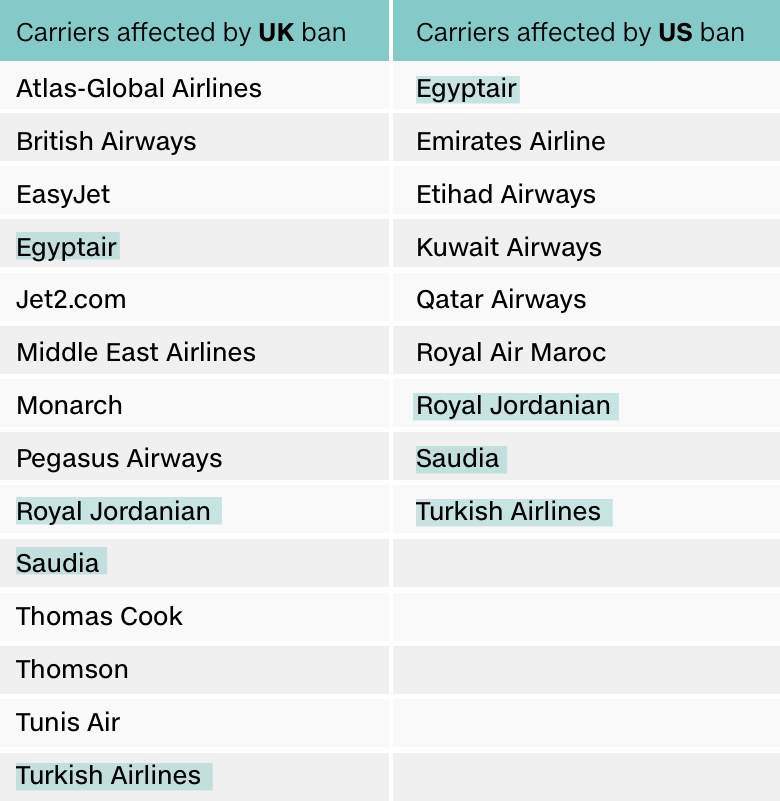 Resources
http://www.usatoday.com/story/travel/flights/todayinthesky/2017/03/21/what-fliers-need-know-airline-laptop-ban/99447660/
http://money.cnn.com/2017/03/21/news/airline-electronics-ban-explainer/
http://www.bbc.com/news/world-us-canada-39348615
http://fortune.com/2017/03/21/trump-airplane-laptop-ban/
https://www.dhs.gov/news/2017/03/21/fact-sheet-aviation-security-enhancements-select-last-point-departure-airports